Laboratories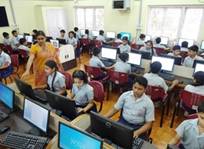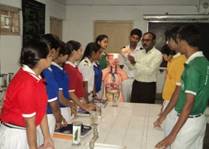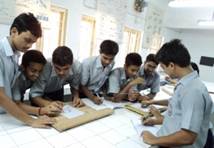 Computer Lab Biology Lab Physics Lab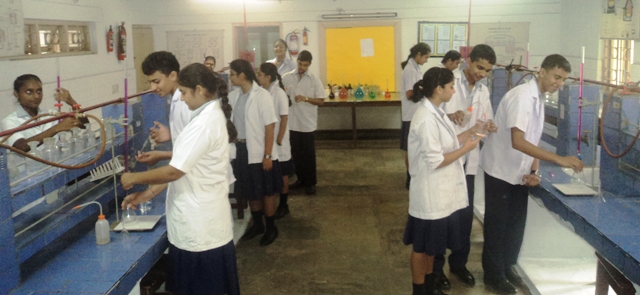 Chemistry Lab Mathematics Lab
COMPUTER LABS
In the Information Technology era, individuals must have a combination of formal education and experience. The school aims at developing a multifaceted appreciation for technology and its role in the world stage so that our students may effectively succeed in the dynamic environment of this new century. The school houses five Computer Labs (2 labs in Secondary, 2 labs in Primary wing and 1 Lab in 104 Area Wing). Each of these labs is well-equipped with brand new PCs with online UPS support and is fully air conditioned. The Pupil PC ratio is maintained1:1 to impart knowledge in the field of Information Technology.
BIOLOGY LAB
A hallmark of science is that it generates theories and laws that must be consistent with observations. Much of the evidence from these observations is collected during laboratory investigations. Our school Biology laboratory is defined as an experience in the laboratory, classroom, or the field that provides students with opportunities to interact directly with natural phenomena or with data collected by others using tools, materials, data collection techniques, and models. Throughout the process, students have opportunities to design investigations, engage in scientific reasoning, manipulate equipment, record data, analyze results, and discuss their findings.
PHYSICS LAB
The purpose of establishing Physics lab is to draw potential of the pupil by exploring various natural phenomena in day to day life. Physics lab provides immense opportunities to learn by various experiments at their appropriate age level.
CHEMISTRY LAB
Chemistry Lab is fully equipped with all the facilities to get exposure to various chemicals and to study their nature. It helps in verifying the theoretical concepts taught in the class room. In addition to this, every child gets scope to experiment and to explore the concepts beyond the class room.
MATHEMATICS LAB
The lab is designed to inspire ignited minds to learn mathematical concepts. The children explore their knowledge to get results using manipulatives (mathematics kit). The lab is helpful not only for geometrical concepts but also Algebra, Number system etc., to improve lateral and critical thinking process.
LANGUAGE LAB
Communication skills have become essential in today's world and with the introduction of the 'Assessment of Speaking and Listening' skills by CBSE board in the curriculum, the language laboratory has become inevitable. Keeping this in mind the school is introducing a language lab which will enable students to have good command of the language for communication purposes.
3-D LAB
The school auditorium has the facility of screening 3-D modules which further enhance the learning process.